Hello lovelies!
Sorry I haven't posted in a while, been super busy with work and getting ready for school to start. You know what that means :P. Summer is nearly at its end and we can feel the chill setting in on the cool breeze. But don't fret! As much as I love summer, a new season means all new trends and an all new wardrobe. As much as I loved this summers trends, I was excited to find out just what was being strut down the runways for this fall and I can say I was pleasantly surprised. Bold colors, lots of textures and beautiful prints are whats in store. Here are a few of the things you can look forward to this season.
Fall/Winter 2012 Trend: Red
Crimson is the new black this season. Red was prominently featured in many designers runway collections from Donna Karen to Marc Jacobs. While some people may want to wear the rouge from head to toe, subtle accents or pieces like a red shoe or blazer can really make your outfit pop. I personally love the color red and I'm getting prepared to sport my red satin bow pumps at the next party ;)
Source: http://yourlifestyleupgrade.com/wp-content/uploads/2012/08/classic-red-fall-winter-2012-trend.jpg
Fall/Winter 2012 Trend: Military
I don't know about you guys, but I think this trend can be so bad-ass but so chic at the same time. I was never a fan of the camo-green color combination, but designers really took things up a notch and managed to make this trend look structured but elegant at the same time.
Source: http://www.collegefashion.net/wp-content/uploads/2012/08/military-trend-on-the-fall-2012-runway.jpg
Fall/Winter Trend 2012: White Wonderland
Who ever said that you can't wear white after labor day? Designers have prominently featured head to toe white ensembles from Mugler to Derek Lam to Alexander Wang. White is in no way off limits this season, so bust out that white summer dress and revamp it with a nice cozy white sweater or coat and don't forget a nice pair of simple black booties. You cannot go wrong.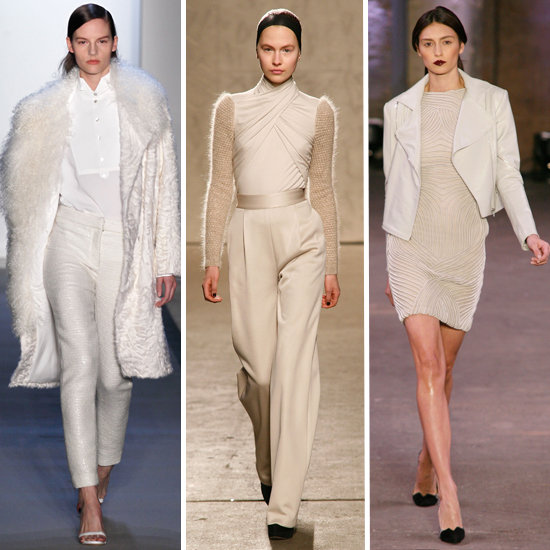 Source: http://media4.onsugar.com/files/2012/02/07/2/192/1922564/535cb740de0337f4_winterwhite.xxxlarge_1/i/Fall-2012-Trend-Winter-White-Outfits.jpg
These are just some of the trends rockin the runways. Which trends are you into?? Don't forget, color blocking is still so chic, but for winter, change up the super cute brights for more bold hews like burgundy, navy, forest green and mustard yellow!! But Don't forget your basic black ;) Let me know if you wanna see more trends, comment below and let me know what you think ;) A la prochaine!!!
~Suzy
Xoxo